Tenerife is one of the mesmerizing islands and the largest in the Canary Islands. The place is famous for its            beautiful beaches and shimmering water making it one of the popular European destinations for boat lovers.
The island is full of spectacular beaches, beautiful blue waters, and awesome nightlife spots that make it a suitable destination for the entire family and boat lovers.
Hiring a boat on Tenerife Island
There are lots of self-driven options for hiring a boat in Tenerife, which would allow you to explore the beauty of this place at your own pace. Whether you want a luxury motor yacht, sailing boat, speed boat, or catamaran, get in touch with Club Canary to hire a boat Tenerife of your choice.
Club Canary is a famous tour operating company that caters to the needs of visitors in South Tenerife and provides guided tour activities so that the tourists can make the most of their Tenerife trip. They offer a range of services like whale and dolphin watching tours, water sports, boat hire, bus tours, theme parks, evening shows, and much more to make your Tenerife vacation filled with fun and adventure.
Visit their website for making bookings in advance for all kinds of services.
Their boat hiring service is commendable with numerous options to choose from and it includes:
Guaranteed dolphin and whale sightseeing.
Snorkelling gear.
Food and drinks.
Free cancellation policy depending on the kind of boat you hire.
Pick and drop off.
Private trip with guaranteed best price.
Departure is from Puerto Colon, Costa Adeje.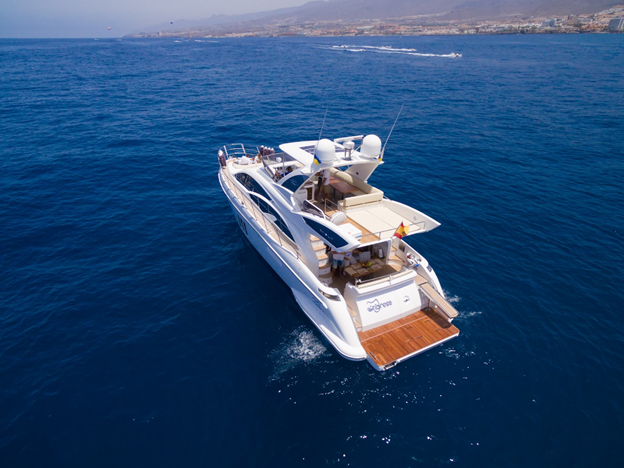 Weather conditions in Tenerife
It is important to check the weather conditions before setting to sail in the ocean. Even though Tenerife has good sunny weather throughout but there can be days when the winds are rough and the weather can be worse.
The trade winds or the northeast winds and the Calimo or Sirocco winds blow from April to October from the Sahara. Summer winds are strong and make sea navigation difficult.
On such days, the waves can be very strong and if you are an inexperienced sailor, you might find it difficult to control the boat in such rough weather conditions.
Therefore, the best time to sail and rent a boat in Tenerife is between October and February when the trade winds are milder.
You can always hire an experienced sailor to sail the boat for you so that you can sit back and relax while enjoying the journey around the spectacular views of the Tenerife coastline.
Permit to sail in Tenerife
Renting a boat in Tenerife does not require a license if:
Your sailboat is within 6 metres.
Your motorboat is not exceeding 5 metres in length and the power is less than 11.26 kilowatts.
However, if you rent a boat exceeding these limits then you will need a boat license and the process is carried out by the rental company.
Hiring a boat in Tenerife is something that one should not miss as it gives you a lifetime opportunity to explore the beauty of this Spanish coastline.